Aloha, fellow travelers!
If you're planning a relaxing Hawaiian getaway to the vibrant island of Oahu, chances are you've heard of the Dole Plantation.
Nestled on the North Shore of Oahu, the popular Dole Plantation offers a unique and immersive experience for visitors of all ages.
How far is Dole Plantation from Waikiki, though? Read on to find out.
History of Dole Plantation
The Dole Pineapple Plantation's roots trace back to its founder, James Dole, often referred to as the "Pineapple King."
In its early days, the plantation was a humble fruit stand along the Kamehameha Highway. However, under James Dole's visionary leadership, it quickly transformed into an agricultural powerhouse, becoming synonymous with Hawaii's pineapple industry.
James Dole, originally from Massachusetts, arrived in Hawaii in the early 20th century, at a time when the pineapple industry was in its infancy. He saw the potential of the fertile Hawaiian soil for cultivating pineapples and embarked on a mission to turn this tropical fruit into a thriving business.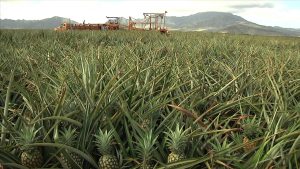 As he acquired land on Oahu's North Shore, James Dole set the stage for what would eventually become the Dole Pineapple Plantation. His dedication to cultivating high-quality pineapples earned him the nickname "Pineapple King."
Under his leadership, the plantation expanded rapidly, and the Dole brand became synonymous with the sweetest, juiciest pineapples in the world.
Dole's contributions to pineapple cultivation extended beyond his own plantation. He introduced advanced farming practices, including the use of irrigation systems and mechanized farming equipment, which revolutionized the pineapple industry not only in Hawaii but globally.
The Dole Pineapple Plantation, initially established as a fruit stand to showcase Dole's delicious pineapples, gradually evolved into an immersive experience for visitors.
It offers not only a glimpse into the history of pineapple cultivation but also a fun-filled day of exploration, learning, and adventure.
Today, the Dole Plantation stands as a testament to James Dole's vision and his significant role in shaping Hawaii's economy and identity.
It continues to welcome visitors from around the world, inviting them to explore the lush pineapple fields, attempt to conquer the largest maze in Hawaii and enjoy a Pineapple Express Train Tour that provides insights into the history and variety of pineapple cultivation.
Getting to Dole Plantation from Waikiki
Before we dive into the journey, let's pinpoint the exact location of the Dole Plantation. You'll find this pineapple paradise at 64-1550 Kamehameha Highway, Wahiawa, Hawaii 96786.
The Dole Pineapple Plantation is strategically located, just 22 miles from the hustle and bustle of Waikiki Beach. That's right, a mere 22 miles stand between you and a world of pineapples, history, and fun-filled activities.
The central location of this tropical gem makes it accessible for tourists staying in different parts of the island. Whether you're coming from downtown Honolulu or other popular areas like the North Shore or Pearl Harbor, you can reach the Dole Pineapple Plantation with ease via car or public transportation.
Now, for the tech-savvy traveler in you, consider using online mapping services such as Google Maps to get precise directions. Input "Dole Plantation" as your destination, and let technology do the rest.
Driving to the Dole Plantation
If you've got a rental car and a taste for adventure, driving to the Dole Pineapple Plantation is a breeze. From Waikiki, hop on H-1 West, then transfer to H-2 North (Exit 8A). It's like following a treasure map, except your prize at the end is juicy, golden pineapples.
Once you're on H-2, take Exit 8 to Wahiawa. From there, it's a scenic drive along Kamehameha Highway (Highway 99), leading you straight to the Dole Plantation's doorstep.
Now, here's the sweet part: the journey from Waikiki to the Dole Pineapple Plantation takes roughly 40 minutes by car. That's less than the time it takes to binge-watch a couple of episodes of your favorite show!
So, fire up your playlist, roll down the windows, and get ready for a short but delightful road trip through the lush Hawaiian landscape.
Rent a Scooter (Top Pick)
One of the best ways to get around the island, including to the Dole Plantation is to rent a scooter or moped and high-tail it over there.  We have great rates on scooters and will deliver them straight to you if interested!  Check the sidebar for our booking options!  Nothing like cruising around on something that doesn't weigh much with the wind in your hair and sun on your back.
Bus Transportation
What if you prefer to let someone else do the driving while you soak in the views? No worries, Oahu's got you covered with an affordable and eco-friendly option; the city bus service. TheBus, as it's lovingly known here, offers transportation to the Dole Pineapple Plantation.
You might be curious about the cost and duration of this bus ride. Well, here's the scoop: taking the bus from Waikiki to the Dole Plantation costs just $3, making it an economical choice for budget-conscious travelers.
The journey itself takes approximately 1 hour and 41 minutes. That's a bit longer than the drive, but hey, you get to enjoy the scenery without worrying about traffic!
For the latest route schedule and fares, check out TheBus website. It's your one-stop shop for all the information you need to embark on this pineapple-scented adventure.
Taxi Option
Taking a taxi from Waikiki to the Dole Plantation is undoubtedly the fastest way to get there. It'll get you there in 30-40 minutes, depending on traffic.
However, this convenience comes at a price, with taxi fares ranging from $100 to $130. If you're in a hurry and don't mind splurging a bit, this might be the choice for you.
No Direct Bus Route
While the city bus is a convenient option, there's one thing you should know; there is no direct bus route from Waikiki to the Dole Plantation.
You'll need to make a few transfers along the way. Your journey will likely involve departing from Kapiolani Bl + Isenberg St, arriving at Kamehameha Hwy + Dole & Helemano Plantations, with transfers in between.
Traveling Without a Car
For travelers without access to a car, taking the bus is the best way to reach the Dole Plantation without breaking the bank.  Each Island is different, for a complete list of information check out our Hawaiian Islands information.
It might take a bit longer than driving, but hey, you'll get to mingle with locals, take in the scenery, and save some cash for pineapple-themed souvenirs at the gift shop.
Hotels Near the Dole Plantation
Now that you know how to get to the Dole Pineapple Plantation from Waikiki, you might be wondering where to stay.
The good news; there are numerous hotels available near the Dole Plantation, so you're spoiled for choice. Prices start at $163 USD per night, giving you plenty of options to fit your budget and preferences.
Whether you choose to stay near the Dole Pineapple Plantation or in the heart of Waikiki, one thing's for sure: your Hawaiian adventure will be filled with unforgettable moments, scenic drives, and a deeper understanding of the island's rich history and culture.
Wrapping Up
So, how far is the Dole Plantation from Waikiki? It's a mere 22 miles, a short drive or bus ride away from the vibrant beaches of Waikiki.
Whether you decide to cruise down Kamehameha Highway, hop on TheBus, or zoom in a taxi, the journey is part of the adventure.
As you arrive at this historic site, you'll not only explore vast pineapple plantations but also immerse yourself in Hawaiian history, culture, and an array of exciting activities.