How Long Does It Take to Drive Around Hawaii? That's the question we're set to answer as we embark on a road trip around the breathtaking Island of Hawaii.
From traversing the diverse landscapes to uncovering hidden gems along the way, join us on this adventure as we explore the best stops and essential items to make your journey unforgettable.
Is It Even Possible to Drive Around Hawaii?
Yes, it is possible to drive around many of the Hawaiian Islands, including some parts of the larger islands like Oahu, Maui, and Hawaii (also known as the Big Island).
However, it's important to note that you cannot drive entirely around any of these islands due to natural barriers such as mountains, cliffs, and protected natural areas like the ones you mentioned.
On the Big Island of Hawaii, for example, you can drive along most of the coastline, but there are sections where the road ends due to rugged terrain and volcanic activity.
The Pu'u O Umi Natural Area Reserve and Kahaualeʻa Natural Area Reserve are indeed places where road access is restricted or non-existent, and you would need to turn inland or find alternative routes to continue your journey.
So, while you can enjoy scenic drives along the coastlines of many Hawaiian islands, you may encounter areas where road access is limited, and you'll need to explore inland or find other ways to reach your destination.
How Long Will It Take You to Drive Around Hawaii?
If you were to drive continuously without stopping for any sightseeing, activities, or breaks, it would take a considerable amount of time to circle the entire Big Island of Hawaii, which is the largest of the Hawaiian Islands.  Now imagine doing that on a bicycle rental!
The Big Island's perimeter road, known as Hawaii Route 11 and Hawaii Route 19, covers approximately 270 miles (435 kilometers).
The road conditions and traffic can vary, but assuming an average speed of 45-55 miles per hour, it could take around 5 to 6 hours to complete the drive without stopping.
If you plan to make stops to enjoy the beautiful scenery, visit attractions, engage in activities like hiking, and explore the unique places around the island, the time it takes to drive around the Big Island of Hawaii will be significantly longer.
Depending on the number and duration of stops you make, this journey could take anywhere from one full day to several days.  If you happen to want to do it using a scooter, then you'll want to make sure you follow all the Hawaiian scooter laws.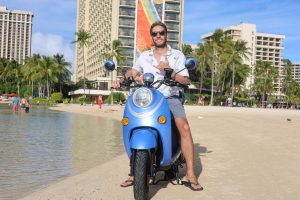 What Are the Locations That You Can Stop at While Driving Around Hawaii?
Here are nine beautiful locations where you can stop during your trip around Hawaii:
1. Black Sand Beaches
The Big Island is renowned for its captivating black sand beaches, a result of volcanic activity. These unique shores, such as Punalu'u Beach and Richardson Beach Park, are a striking contrast to the azure waters, and they often provide a habitat for Hawaiian green sea turtles.
Access Route: To reach Punalu'u Beach, take Hawaii Route 11 and follow the signs. For Richardson Beach Park, drive on Kalanianaole Avenue in Hilo and follow the clearly marked signs.
2. Hawaii Volcanoes National Park
Hawaii Volcanoes National Park is a geological wonderland that offers an opportunity to witness volcanic activity up close. Explore lava tubes, hike through otherworldly landscapes, and take in breathtaking views of both active and dormant volcanoes.
Access Route: Access the park via Hawaii Route 11, the main highway running through the island. Numerous signs along the highway will guide you to the park's entrances, where you can discover the world of volcanoes.
3. Akaka Falls State Park
Akaka Falls State Park, nestled along the scenic Hamakua Coast, immerses you in a lush tropical paradise. Traverse a short loop trail through verdant rainforest to behold the majestic Akaka Falls, plunging 442 feet into a gorge below.
Access Route: Head north on Hawaii Route 19 (Mamalahoa Highway) to find Akaka Falls State Park. The park is well-marked, and parking is available.
4. Green Sand Beaches (Papakolea Beach)
Papakolea Beach, also known as the Green Sand Beach, is an extraordinary gem featuring sands rich in olivine crystals. This remote beach, surrounded by dramatic cliffs, offers a truly unique natural setting.
Access Route: To access Papakolea Beach, drive to South Point on the southern tip of the island. The journey involves taking South Point Road, which can be rugged, so consider a 4-wheel drive vehicle or a shuttle service for the last part of the journey.
5. Waimea Canyon
Waimea Canyon, often referred to as the "Grand Canyon of the Pacific," is a geological marvel on the island of Kauai. It features deep, colorful canyons carved by erosion and is renowned for its striking vistas and hiking trails.
Access Route: From the town of Waimea, drive westward along Waimea Canyon Drive (Highway 550) to reach the entrance of Waimea Canyon State Park.
6. South Point (Ka Lae)
South Point, known as Ka Lae in Hawaiian, is the southernmost point of the United States. Here, you'll encounter rugged cliffs, a historic green sand beach, and a diving platform for adventurous swimmers.
Access Route: To reach South Point, drive to the southern tip of the Big Island. Take South Point Road, accessible from Highway 11, and follow signs to the parking area.
7. Kealakekua Bay
Kealakekua Bay is a pristine marine sanctuary located on the western coast of the Big Island. This historic bay is renowned for its crystal-clear waters, snorkeling opportunities, and the Captain Cook Monument.
Access Route: Drive along the picturesque Kamehameha Highway, which leads to Kealakekua Bay. Once you arrive in the area, you can access the bay via a kayak tour or a hike.
8. Waipio Valley
Waipio Valley is a lush and secluded treasure on the northeastern coast of the Big Island. Surrounded by steep cliffs and featuring a pristine black sand beach, the valley offers a glimpse into Hawaii's natural beauty and history.
Access Route: To access Waipio Valley, take Highway 240, which leads to the overlook. Note that driving into the valley itself is permitted only for 4-wheel drive vehicles, so most visitors enjoy the view from above.
9. Pololu Valley
Located on the northern tip of the Big Island, Pololu Valley is a rugged and picturesque destination known for its dramatic landscapes.
This valley offers hiking trails with stunning viewpoints, leading to a black sand beach. The panoramic vistas from the overlook are truly breathtaking.
Access Route: To reach Pololu Valley, drive to the town of Hawi and follow Highway 270 until you reach the Pololu Valley Lookout. From there, you can hike down into the valley or simply enjoy the view from above.
Please note that the hike can be steep and challenging, so wear appropriate footwear and bring water.
What Should I Pack for a Drive Around the Island of Hawaii?
Packing for a drive around the Island of Hawaii is essential to ensure you have everything you need for a comfortable and enjoyable journey. Here's a checklist of items to consider bringing:
1. Travel Documents:
Driver's license and vehicle registration
Proof of insurance
Passport or other identification if planning to take inter-island flights
2. Maps and Navigation:
Physical maps or a GPS device with Hawaii maps
Cell phone with a reliable navigation app and car charger
3. Vehicle Essentials:
Spare tire, jack, and tire iron
Jumper cables
Basic car toolkit
Owner's manual for your vehicle
Roadside assistance information
4. Comfort and Safety:
First-aid kit
Fire extinguisher
Flashlight and extra batteries
Emergency reflectors or flares
Sunshade for the windshield
Insect repellent
Sunscreen
Hat and sunglasses
Reusable water bottles
Snacks and non-perishable food items
Cooler with drinks and snacks
5. Clothing:
Comfortable clothing suitable for warm and humid weather
Light layers for cooler evenings or higher elevations
Swimwear for beach stops
Rain jacket or poncho (in case of rain)
Sturdy, comfortable walking shoes or hiking boots if planning to hike
Flip-flops or sandals for beach outings
6. Personal Items:
Toiletries (toothbrush, toothpaste, shampoo, etc.)
Medications and prescriptions (if applicable)
Personal hygiene products
Travel-sized laundry detergent (for longer trips)
Cash and credit/debit cards (for gas, entrance fees, and dining)
7. Entertainment and Communication:
Travel guidebooks or apps
Travel journal and pen
Mobile device with a charger and headphones for music, audiobooks, or podcasts
Camera or smartphone for capturing memories
8. Beach and Outdoor Gear (Optional):
Beach towels
Snorkeling gear
Beach chairs and umbrellas
Water shoes or aqua socks
Binoculars for wildlife viewing
9. Accommodation Essentials (if not pre-booked):
Sleeping bag or bedding
Camping equipment (if planning to camp)
Travel pillow and blanket
10. Environmental Considerations:
Reusable bags for shopping
Reusable water bottles and containers to minimize waste
In Conclusion
In this article, we've delved into the intricacies of driving around the Island of Hawaii.
From understanding the possibility of circling the island to discovering remarkable locations like black sand beaches, Hawaii Volcanoes National Park, and lush valleys, we've provided insights to enhance your road trip experience.
As you prepare for your journey, remember to pack wisely and savor every moment of your exploration, taking in the natural beauty and unique charm of the Big Island.